Kitchens
Your kitchen remodeling contractor in Springfield, MO.
Does the kitchen in your Springfield, MO area home need remodeling?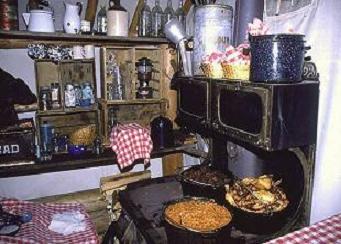 Kitchen remodeling should start with a well thought-out plan
List the amenities you want in a new kitchen.
Is the current traffic flow too tight?
Can adjacent areas be utilized to create a larger kitchen?
Do you want hardwood floors or ceramic tile?
Do you need more counter space?
Do you have enough storage space?
Do you need new appliances?

Find a quality kitchen remodeling contractor early in the process
A professional contractor can help to guide you through the planning stage in a logical step-by-step approach.
Educate yourself on the options available. Custom cabinets, granite countertops, and stainless steel appliances are all great choices, but each design decision you make will determine the overall cost of your project.
Experiment with different layout options. Your oven location can be moved, and that cluttered broom closet could be turned into a pantry. Do you have room for an island? How you use the space should guide you in your design.
Finding your style AND enhancing the functionality can be the most difficult step in the process.
---
---
Kitchen Remodeling – before and after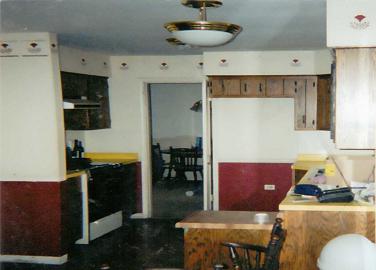 The layout and design of this kitchen was very congested.
The refrigerator's location interfered with access to the corner base cabinet.
Counter top work-space was difficult to utilize.
Storage space was non-existant, forcing the homeowners to use their basement for pantry items.
We offered multiple design changes which greatly improved the functionality of the space.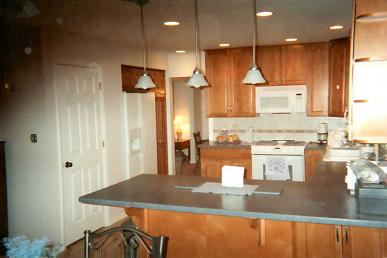 The cabinet soffits were removed allowing for the installation of 42″ upper cabinets.
The refrigerator and stove locations were switched by expanding the kitchen into an adjoining room.
The existing doorway was relocated, allowing for additional cabinets and increased counter space.
A peninsula was added increasing both storage and work-space.
Recessed 6″ fixtures together with hanging pendants and under cabinet task lighting were also added.

---
---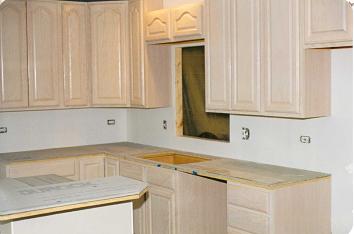 NuRoom Remodeling can help from the very beginning of the process.
Our proposals are always written and extremely detailed.
We include the material and labor costs for each step of the project.
We focus on one job at a time, ensuring the highest quality wormanship
Call us today and lets get started!
(417) 429-8423
---
---
Resources
Laminate Countertops
Formica Laminate colors/styles
---
---